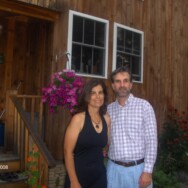 To Make Reservations at the Cherry Dip Cottage please give us a call or send us an email. We accept PayPal, Mastercard, Visa and Discover credit cards and personal checks.
Matt & Nicole Zito
Phone: 207-460-0740 or 207-570-9302
email: mdz@mattzito.com
2014, 2013, 2012 Reviews
Hi Matt.
We absolutely LOVED this house! It was exactly as it was described. Beautiful, comfortable, spacious. Very warm and inviting place. A pleasure to come home to after a day out seeing the sights of coastal Maine. And so well furnished! Comfy furniture, quality appliances. And they thought of pretty much every little thing that guests could possibly need–right down to spices and general food staples in the pantry. Just a wonderful vacation get-away spot!
Thanks.
Cheryl Denninger
October 2014
The house is really nice, clean & bright. The kitchen is well equipped for cooking. The property has plenty of spots to sit down with a good book & a glass of wine or just to take the scenery in. We saw a bald eagle many of the days we were there. It's a bit of a distance to Mount Desert, but not far at all from Schoodic Point, definitely worth a trip.
Sylvia Mueller
August 2014
So quiet and peaceful.
Guest: Sabrina & Michael
Date of Stay: 09/15/13 Review Submitted: 10/1/13
We had a great time – the house was well equipped, comfortable and clean. The area is so quiet and relaxing. It was a truly restful vacation experience. We saw eagles and seals while kayaking in West Harbor. We really enjoyed biking and hiking the Schoodic Peninsula.
Recommended for: Couples, Sightseeing Acadia National Park, Kayake, Relaxing, Privacy
We had a nice week at this house.
Guest: Cindy M.
Date of Stay: 07/26/13 Review Submitted: 8/1/13
We had a nice week at this new house overlooking Gouldsboro Bay (I think). Nice easy kayak launch down the hill from the house. Lots of nearby hiking and sights. Schoodic point (part of Acadia) is nearby, but the bigger park on My Dessert is about 1 hour south. There is a nice private beach in nearby Corea. Be aware that the stairs in the house are steep and creaky. Aside from that, great house. BONUS that it's the only house visible from the street. Very private.
Recommended for: Couples, Families, Traveling with a Dog.
Our stay in Matt and Nicole's cottage was fantastic.
Guest: Daniel R.
Date of Stay: 06/4/13 Review Submitted: 6/25/13
Our stay in Matt and Nicole's cottage was fantastic. It's a gorgeous piece of property with a very secluded feel. It doesn't have the vast ocean views but was still extremely peaceful. The house was beautiful, cozy, and very well stocked. You really feel like it's your vacation home and not some bare-bones rental. We really only had to buy perishable food— even the pantry was fully stocked. They did a great job making us feel at home with notes on how to use everything in the home and where the best local places are. It's a little bit of a drive to Acadia and Bar Harbor but it was nice to be away from the tourist scene and Ellsworth is close enough to make trips to get food and supplies. We would definitely stay again and recommend this to anyone who's interested in a nice getaway.
Recommended for: Families, Friends, Couples
Beautiful home
Guest: sensei (chicago)
Date of Stay: 06/30/12 Review Submitted: 11/25/12
We loved staying in this home. It was away from everything, yet close enough to be in Acadia within minutes. After driving through Bar Harbor, we were happy to be away from crowds. Each morning we had breakfast outside, facing the water. Each night the bullfrogs sang us to sleep. The only people we saw all week were paddling by.The kids loved swinging in the hammock and exploring the property. The house was well stocked with everything and was spotless. We have stayed in rental houses throughout the country and none have been as well stocked as this one. We loved the wall of windows in the living room and seeing the moon reflecting over the water. I would definitely recommend this home to anyone who wants seclusion and who would like to enjoy nature. It is a beautiful, comfortable home.
Recommended for: Families with young children, sightseeing, families with teenagers, adventure seekers, romantic getaway.
Truly the way life should be
Guest: happy traveler (New Boston, PA)
Date of Stay: 09/29/12 Review Submitted: 10/09/12
My husband and myself along with our two four legged babies really enjoyed our week here. The cottage is everything described and then some. It was so comfortable, we didn't feel a need to go anywhere! Beautiful spot, secluded. Bald eagles in the cove viewed from the windows. The dogs had a blast as well. Thank you for the shopping tips. We've always gone into Ellsworth, never realized Milbridge was so much closer. Guidebook came in handy for that and we got the last bit of clams before state shut down for fresh water runoff due to the rain. We love this part of Maine and would definately rent here again.
Recommended for: Girls getaway, pet owners, families with young children, sightseeing, age 55+, families with teenagers, adventure seekers, romantic getaway.
Beautiful, Comfortable Isolation
Guest: Marybeth (Boston, MA)
Date of Stay: 07/07/12 Review Submitted: 07/19/12
Your vacation home is wonderful. It is thoughtfully designed (the living room feels like a tree house!) and very well-stocked (even doggy towels) making for a relaxing vacation. The isolation is so peaceful especially from the hammock by the water. We went to Schoodic most days, especially after the one time we ventured into the main park. Schoodic was never crowded, easy to bike, and the views were dramatic. Your home allowed us to have the laid-back vacation of our dreams in absolute comfort. Thank you!
Recommended for: Pet owners, families with teenagers, adventure seekers, romantic getaway.
Nature Lovers Paradise
Guest: Nicki (Baltimore)
Date of Stay: 07/17/10 Review Submitted: 02/01/12
My husband and I and our 5 year old son had a wonderful time at this beautiful hidden retreat. We felt at home with the comfortable and homey accommodations. The upstairs bath was nice for relaxing at night. The woodwork and design of the home is beautiful! We loved the location of the cottage as we were close enough to enjoy fresh lobsters when we wanted and we were a short distance from the grocery store and town. Since we live around Baltimore this was such a slow change of pace for us that it was a very relaxing and stress free vacation. We also had the option of taking a couple of day trips to Acadia – which our son had a ball at the beach. I am also an artist so I was able to take some time and draw and paint by the water. This is just a beautiful place and great for a relaxing and aesthetically pleasing vacation.
Recommended for: Girls getaway, pet owners, sightseeing, families with teenagers, adventure seekers, romantic getaway.
A great getaway.
Guest: Woody (Orlando FL)
Date of Stay: 09/04/10 Review Submitted: 01/19/12
Irinka my wife insisted we rent a cottage in coastal Maine to re- aquatint ourselves with nature. I have to say this was the best vacation we have had in decades. I loved seeing the Eagles fly into the cove and hear their reflected calls echoing off the rugged-ed coast. We went into Winter Harbor and bought fresh lobsters off the boat. We took wonderful walks, explored Acadia National Park that's right next door. We had coffee under the stars and listened to the bull frogs sing in choir from the pond across the street, and watched the lightning bugs light up fields of lavender. Sometimes you have to take a time out and as they (smell the roses).
Recommended for: Families with young children, sightseeing, age 55+, families with teenagers, adventure seekers, romantic getaway.